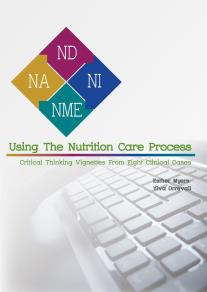 Isbn:
978-91-8848-198-6
Förlag:
Vulkan Bokförlag
Kategori:
Medicin & hälsa
Tillgänglig sedan:
november 2016
---
Using The Nutrition Care Process
The purpose of this book is to illustrate the critical thinking involved when using the Academy of Nutrition and Dietetic's Nutrition Care Process and Nutrition Care Process Terminology. Vignettes from eight case scenarios are presented where each vignette has been created to address specific topics and includes only enough data to illustrate the critical thinking for those concepts. Introductory chapters describe the critical thinking in each of the Nutrition Care Process steps and introduces readers to the topics included in the case vignettes. The topics are organized by the steps in the Nutrition Care Process: Nutrition Assessment, Nutrition Diagnosis, Nutrition Intervention, and Nutrition Monitoring and Evaluation and include documentation, and practice issues. The topics addressed were gathered from workshops and discussions by dietitians as they implemented the Nutrition Care Process in their practice. Initially many of these questions surrounded the use of Nutrition Diagnoses. The query topics reflect that emphasis, but also connect the Nutrition Diagnoses to the other 3 steps of the Nutrition Care Process. A "think along" type of format is used—much like you might have if you were able to sit down with a colleague to discuss a patient case and think about how to provide care and how to document that nutrition care according to the Nutrition Care Process and terminology.
While this book has been developed with practicing dietitians as the target audience, it can also be used by students toward the end of the dietetics education program to guide discussions that reflect and explore their thinking process.
---